WHATSAPP BUSINESS API:

WHAT IS IT AND HOW DOES IT WORK?
Explore all the benefits provided by the WhatsApp Business API and have the best automated service experience for your customers.
Check out our plans
WHAT IS
WHATSAPP BUSINESS API?
WhatsApp Business API is a tool that allows small, medium and large companies to use WhatsApp in a scalable way.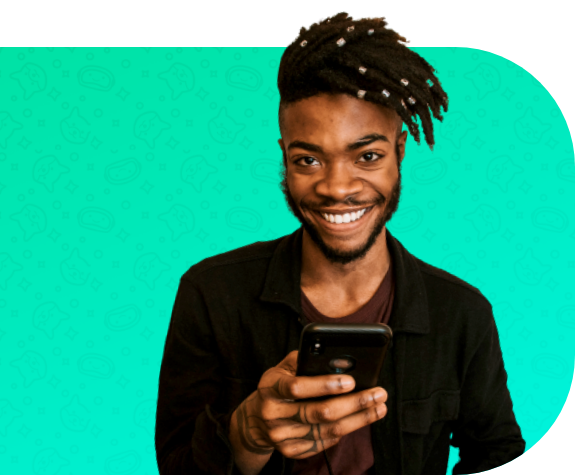 With this solution it is possible to integrate WhatsApp with several digital systems and platforms, in addition to promoting several advantages that generate time and resources savings:
Improves customer relationship;
Enables the sending of automated initial messages and notifications;
Just need a WhatsApp number for several attendants;
Possibility to use chatbots on WhatsApp;
It has easy customization;
Generates reports to analyze the services provided.
Start the service revolution in your company now!
Check the plans
WHY USE A
CHATBOT ON WHATSAPP?
WhatsApp is already one of the main forms of communication in the world and it is clear the need for companies to adapt to this reality.
For this reason, customer service automation has become essential and one of the tools used for this is the chatbot on WhatsApp.
The goal is to offer a good experience for the user during all points of contact with the brand, in addition to providing several advantages for the company, such as cost reduction, operational efficiency and ease of capturing information from users.
76%
of Brazilians already use WhatsApp to answer questions and ask the company for information
Source: Mobile Time
65%
of users consider the tool as a good channel to receive technical support.
Source: Mobile Time
HOW CAN I USE
WHATSAPP BUSINESS API IN MY COMPANY
Sales
Leverage your sales with a chatbot strategy on WhatsApp using technology to capture, qualify and engage your leads.
Customer Service
Provide a better experience with a chatbot on WhatsApp with assistance 24 hours a day.
Notification
Send notifications, alerts or notices to your customers. Containing links, texts or emojis.
Integrate with software
Keep your goals even closer by integrating WhatsApp with its main tools and platforms.
THIS AND MUCH MORE!
CONTRACT
IN 4 STEPS
Fill in
the form and wait for the contact of a consultant.
1
Choice
your plan and send the data to request your WhatsApp number.
2
Wait
the release of your WhatsApp number.
3
Do it
initial application settings.
4
THAT IS IT!

YOU CAN ALREADY START OPTIMIZING YOUR COMPANY'S SERVICE
*Enabling the use of WhatsApp is subject to approval between COMPANY and Facebook, the company responsible for WhatsApp.
CHATBOT ON WHATSAPP WAS A SUCESS AT PIPEFY
Pipefy is a workflow management platform that increases team productivity and standardizes processes for teams such as Finance, HR and Customer Success so that those requesting services, processing requests and managing the operation are more efficient. With an intuitive interface, Pipefy allows anyone to automate manual tasks and implement ready or customized workflows.
Hire now
PLANS
1.000
conversations*
+WhatsApp: R$125/month*
2.500
conversations*
+WhatsApp: R$300+variable/month*
+ than 2.500
conversations*
+WhatsApp: R$625+variable/month*
ABOUT WHATSAPP:
Values for 1 fixed or mobile number of WhatsApp Business API on the annual plan; After 1,000 calls made on the channel, an additional cost of $ 0.30 will be charged for conversations started by the customer and $ 0.50 for conversations started by the company/bot
HIRE A NUMBER ON
WHATSAPP FOR YOUR COMPANY!
Register on the form and contact one of our consultants.