THE BEST AND MOST COMPLETE DIGITAL SERVICE SOLUTION
With intelligent, automated, efficient and innovative communication on your digital channels, you increase your customers' satisfaction levels and experience.
Discover our plans
WE OFFER SMART SOLUTIONS FOR
OPTIMIZE YOUR BUSINESS
Create chatbots easily and intuitively
Are you looking for intelligent communication, quick responses and cost reduction in customer service? Then a chatbot is the right choice for you!
Create your chatbot now
Automated service on WhatsApp
Explore all the benefits provided by the WhatsApp Business API and promote the best automated service experience for your customers.
Know more!
Centralize your communication channels
Optimize and unify service management across your communication channels with an omnichannel platform.
Know the solution
Approved by the best companies:
INTELLIGENT COMMUNICATION IN
MULTIPLE CHANNELS!
Allow your customers to contact your company wherever, whenever and however they want! Centralize and integrate your communication channels in a single place, taking advantage of all the benefits of an Omnichannel platform.
SOLUTIONS FOR ALL
AREAS AND DEPARTMENTS
Marketing and sales
Use chatbots to qualify and engage your leads in your main channels. With an automated service, it is possible to collect valuable information and reduce the customer's purchase journey.
Service and support
Provides a better experience for your customers with 24/7 service, no queues and instant responses.
Process Automation
Solutions that automate various types of administrative and bureaucratic processes, promoting agility and cost reduction.
We offer innovative solutions for conversational automation and efficient service. Add value to your processes and deliver the best connection experience to your customers.
Talk to a consultant
PROGRAMS
THAT WE ARE PART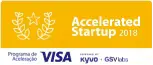 Partners that are part of our history:
Expand your sales opportunities! Combine your commercial capacity with CosmoBots technology and with us!
Discover the partnership program
PLANS
1.000
conversations*
+WhatsApp: R$125/month*
2.500
conversations*
+WhatsApp: R$300+variable/month*
+ than 2.500
conversations*
+WhatsApp: R$625+variable/month*
ABOUT WHATSAPP:
Values for 1 fixed or mobile number of WhatsApp Business API on the annual plan; After 1,000 calls made on the channel, an additional cost of $ 0.30 will be charged for conversations started by the customer and $ 0.50 for conversations started by the company/bot
TESTIMONIALS FROM
WHO IS ALREADY USING
"

It's one of the few bot tools that helps developers and doesn't charge a kidney a month to use.
"

A very interesting feature is that I can integrate my bot into multiple channels like WhatsApp, Messenger, websites and many others.
"

It is an extremely user-friendly and intuitive platform for those without such technical knowledge, providing API, JS, etc.
IT'S TIME TO AUTOMATE PROCESSES AND TRANSFORM YOUR CUSTOMERS' EXPERIENCE!
Check out our plans or talk to one of our consultants!